Dr. Taeko Matsuda
HK 1994 (1927-2019)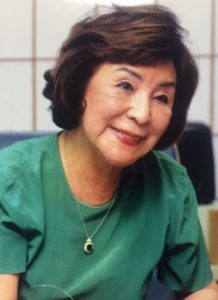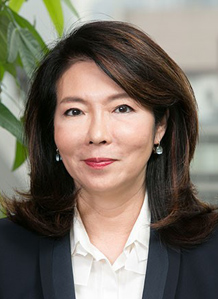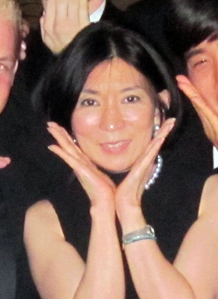 The Kroks first met the Matsuda/Sato family when Mischa Frusztajer and Kimi Sato, Dr. Taeko Matsuda's son, became friends at Andover in the early 1980's.  After leaving Andover, and before starting Harvard, Mischa spent six months in a Japanese high school two hours north of Tokyo and Kimi introduced him to Dr. Matsuda.  They got together about once a month, during periodic day trips to Tokyo, and over the course of those visits he met Dr. Matsuda's daughters, Kumi Sato and Lina Sato, and their husbands, Mr. Donald Kanak and Dr. Hiroya Kumamaru.  They also met some of the other amazing people in Dr. Matsuda's active social circle.
A few years later, Brad Daley, a Krok from 1986, was working in Japan for Kumi as a foreign accounts liaison at Cosmo, a company by then owned by Kumi Sato and Don Kanak. It was during this period that the Kroks' decades-long history in Japan, and with Dr. Matsuda and her daughters, began.  One evening, Dr. Matsuda took Mischa and Brad out for "drinks" and proceeded to drink them under the table.  Brad's recollection is that they drank Suntory Whisky.  In 1988, the Matsuda/Sato family enthusiastically embraced the Kroks and became our Patrons in Japan.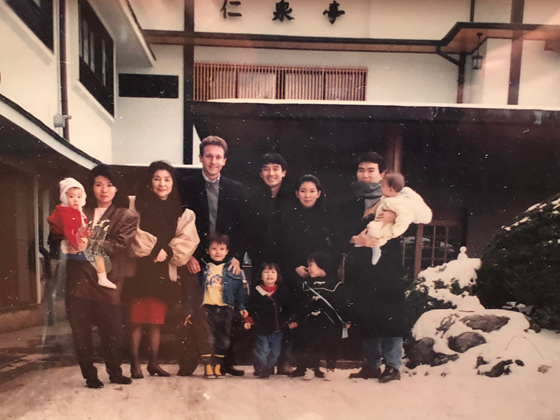 Kumi, Dr. Matsuda, Don, Hiroya, Lina and Kimi in 1989 with Dr. Matsuda's grandchildren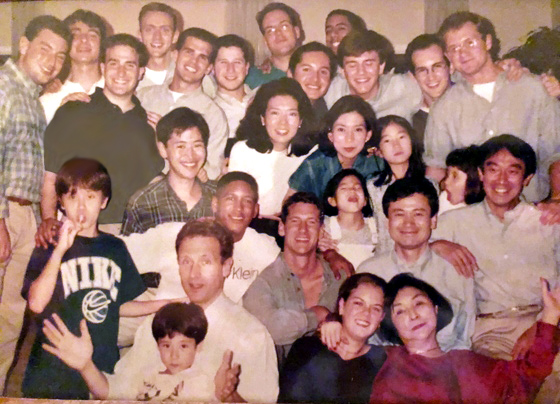 The Kroks of 1996 and some alums with the family
For over a decade, Kumi and Don hosted the Kroks, throwing parties at their home for their extended family and friends. The Kanak's were always shocked by the amount of food the Kroks consumed.  Each evening was finished with Kumi playing the piano and a few Kroks performing.
The Matsuda/Sato grandchildren grew up with the Kroks, and photos of them are kept in their family album.
On the 30th wedding anniversary of Kumi and Don, held in New York, a Krok alum performed.  Kumi and Don were ever so grateful to see old Kroks who they had known for over three decades.
Eventually, Dr. Matsuda's foundation took over hosting the group when they started performing outside of Tokyo, and throughout Japan.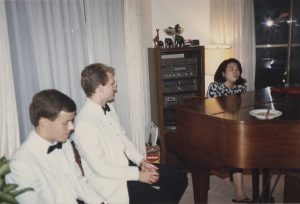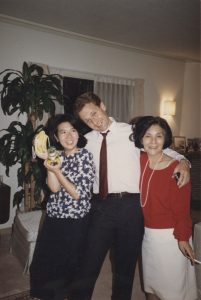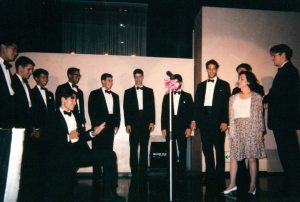 Dr. Matsuda has been a great sport and is frequently serenaded by the Kroks in their concerts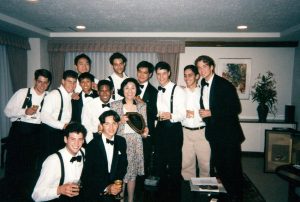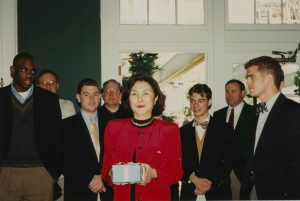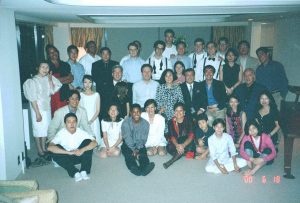 They are a remarkable family and their generosity to the Kroks has been significant, immediate, and long lasting.  The Kroks began singing at large public concert halls including Yamaha and Suntory Halls, around the country in places like Mie and Ishikawa Prefectures, as well as at charitable events hosted by the Foundation of Global Life Learning Center.  In recognition of all that she and her family had done for them in Japan to make the entire world tour possible, and her person kindnesses, the group honored Dr. Matsuda in 1994 by making her an Honorary Krok.
Dr. Matsuda traveled to see the Kroks!  In 1996, she flew to Boston to join us for our 50th Anniversary.  At that time, several hundred assembled alums showered her with our appreciation and presented her with an engraved silver cigarette box.  She joined us again in 2006 for our 60th Anniversary and made a speech at Tour Night!
Dr. Matsuda shared her entire family with the Kroks when they visit and we have been very fortunate for this.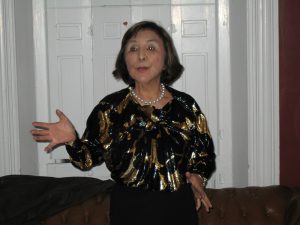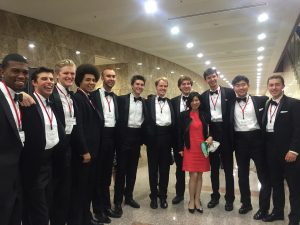 Since 2001, Madame's daughter, Lina, has taken on the duty of coordinating and managing the Kroks tour in Japan, including taking them to the prefectures. She has remained very connected with Kroks from across the years and has become the family's representative at our major reunions.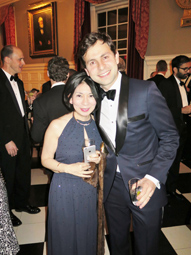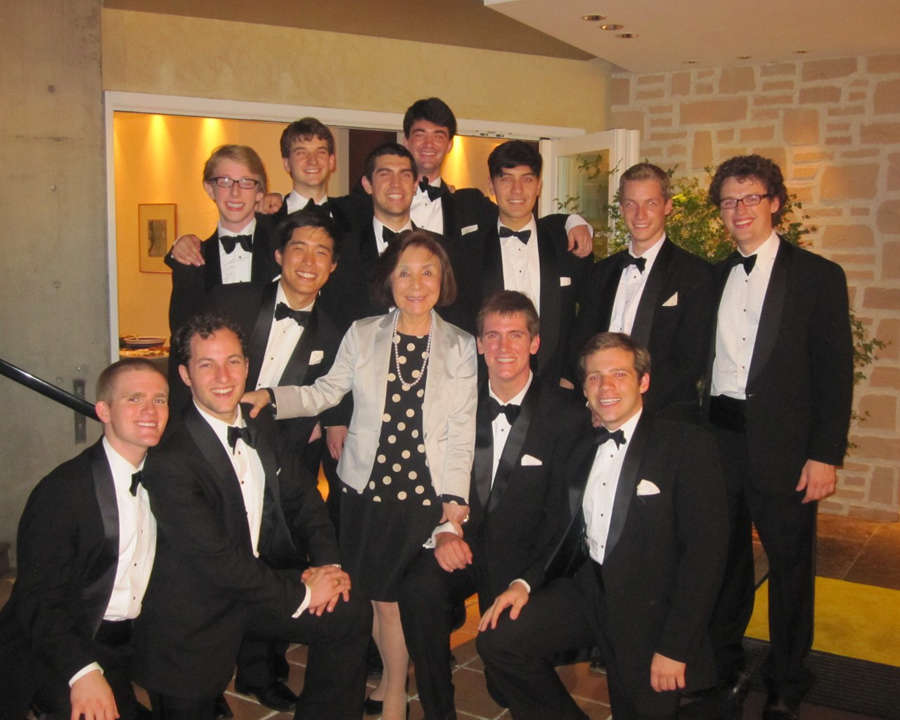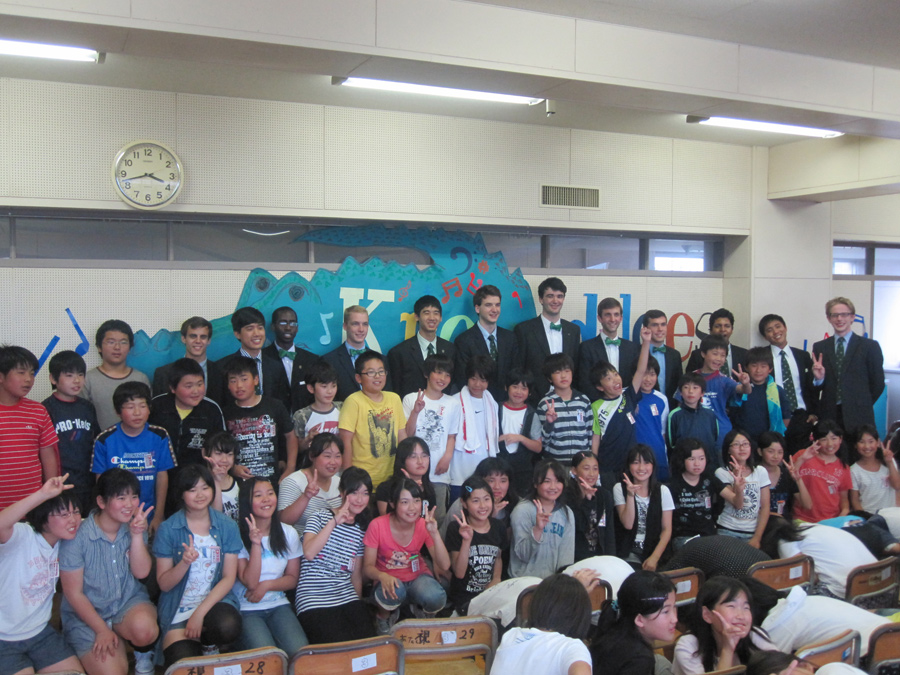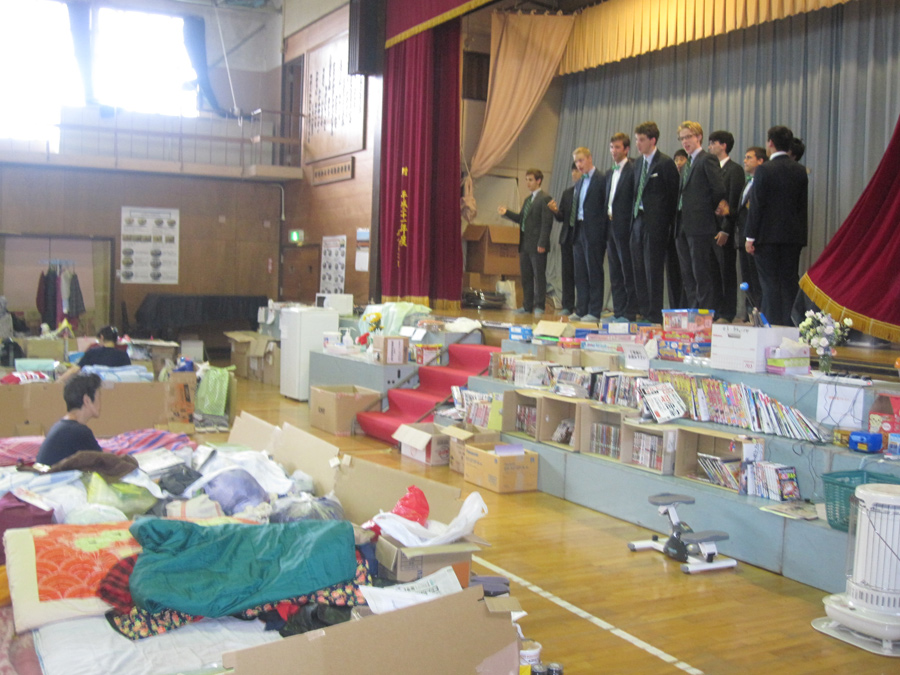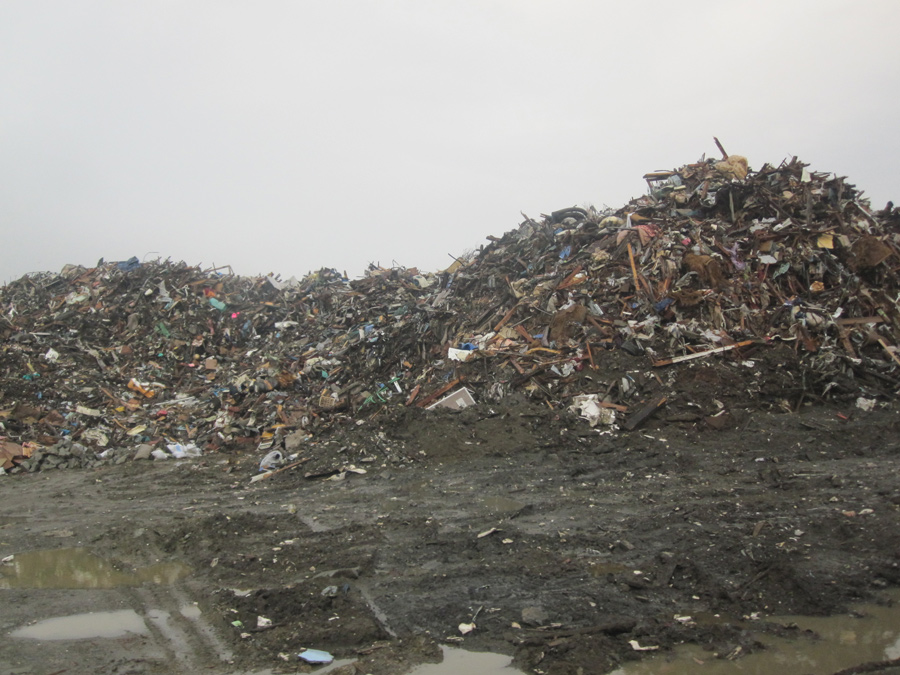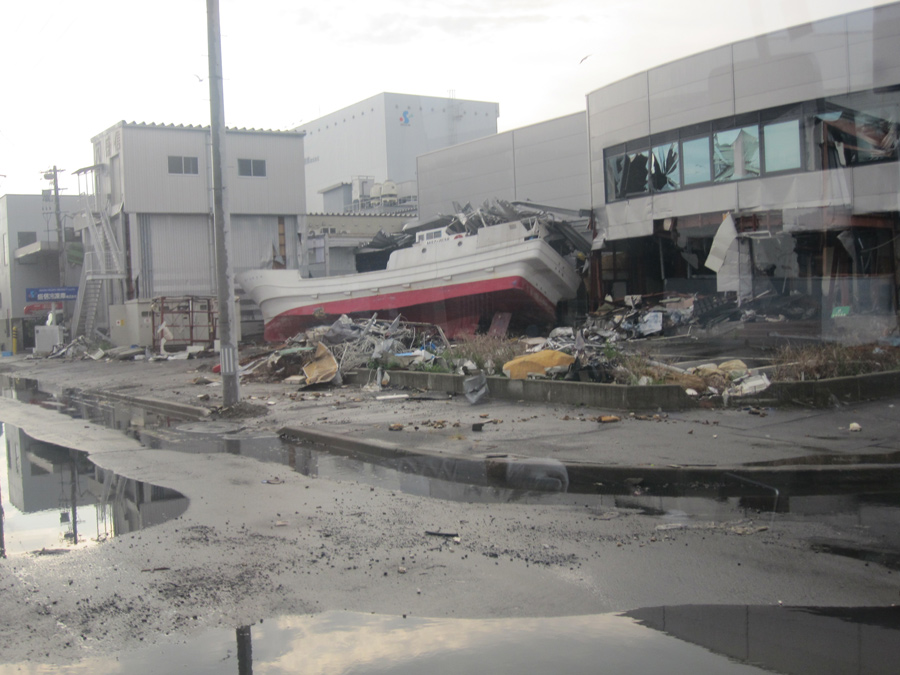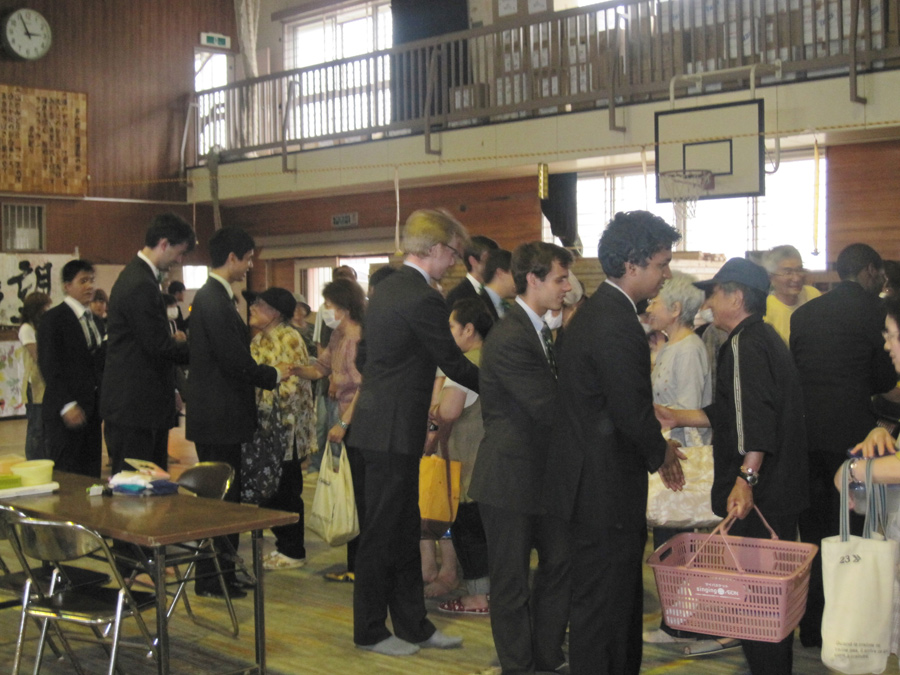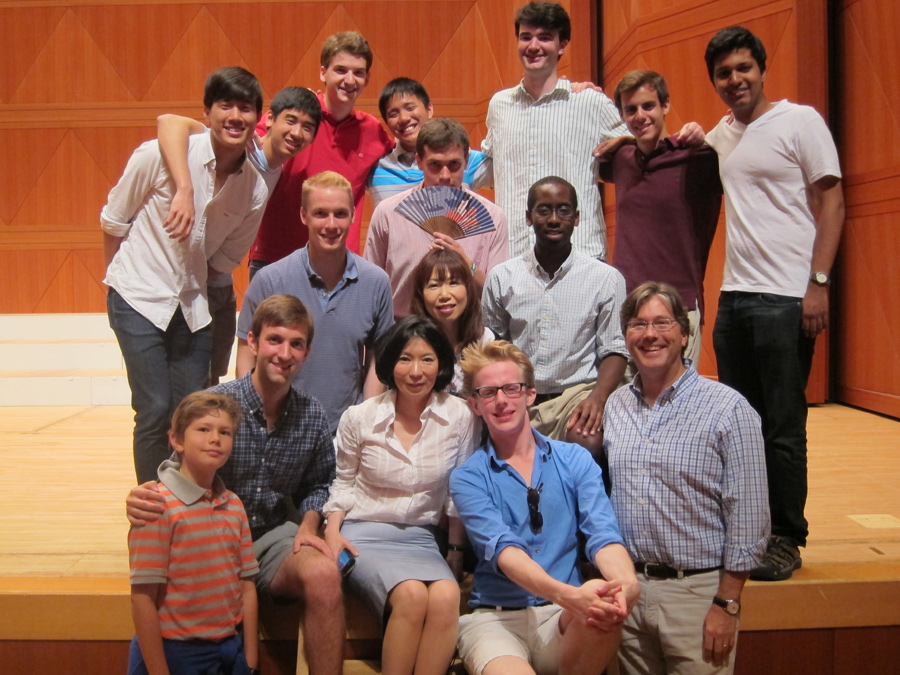 In 2011, members of the board wanted to show their gratitude for the family's years of kindness to the Kroks and reciprocated by launching a "Kroks for Japan" campaign.  This effort sponsored the Kroks to sing in areas impacted by the tsunami and radiation leaks from Fukushima.  Steve Dostart and his son journey to Japan as the board delegation to tell the family in person how much they mean to the Kroks.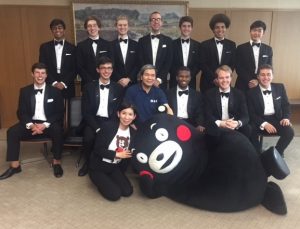 In 2016, the Kroks again provided some happiness after a major earthquake, this time in Kumamoto. The governor of the prefecture met with them, along with the famous character Kumamon, to let them know how much their singing encouraged the people.
30th anniversary – Lina, Takeo, Don, Kumi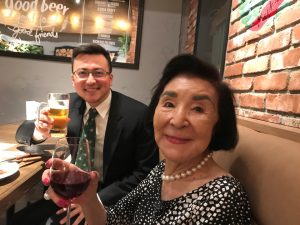 In June of 2018, on the 30th Anniversary of the family becoming patrons of the Kroks, officers of the board, alumni and the Kroks of 2018 converged in Tokyo to both thank the family for the thirty years of support and also to name Kumi and Lina as Honorary Kroks and to thank Donald for all his support of Kumi and the group.  Among the many gifts presented to the family were first of a kind Krok brooches, engraved silver bowls, and memory books covering all 30 years.
Dr. Matsuda passed away February 9, 2019 and will be greatly missed by the Kroks.  At her memorial service on Monday, May 27th (Memorial Day in the United States), she was honored in many ways, including by the Kroks with this memorial video.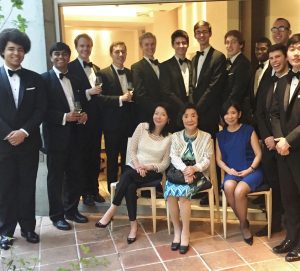 The Kroks feel fortunate that the Matsuda and Sato families are a part of the Kroks!
Recollections from Brad Daley, Steve Dostart, Danny Cloherty, Mischa Frusztajer, Paul Lincoln, Bentley Tolk, Adrian Ashkenazy, Loren Fykes, Tony Salewski, Jonathan Schwartz, David Orenstein and Eliah Seton.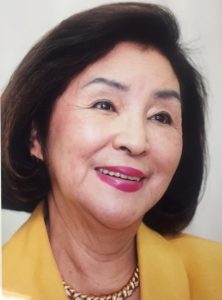 Dr. Taeko Matsuda
Dr. Matsuda led an incredible life.
She was the youngest of four children, who all passed away at an early age. Her only brother, the oldest child, passed away while serving in the Navy in World War II.  Her late father, Takechiyo Matsuda, was a long-time member of the Liberal Democrat Party and a member of the parliament for close to 50 years. He served as Minister of Post and Telecommunications, Minister of Education and LDB Speaker of the House.  Taeko was one year old when he ran to be a cabinet member and for most of her adult years, he was very busy as a member of the parliament.
Her mother was from a prominent family from the Okayama prefecture. Her father went alone at the age of 14 to study at NYU and returned to become a social worker.  Because he was not wealthy, they had to elope.  They both had a strong notion of public service and this had a significant impact on Taeko.
After graduating from high school and still in her teens, she made some money singing and operating a steak house. Her best friend for over 85 years was a professional pianist, and they had a vocal teacher who encouraged Taeko to pick up singing. She sometimes sang at a steakhouse located by Lake Kawaguchi near Mount Fuji.  After the war, she fled to a family summer house which was built in 1937 with the draft sketch from Frank Lloyd Wright.  The Kroks of 2007 visited here.
She then went to study at University of Southern California and met her husband, also a student, through an interview which he did of Taeko as a daughter of a Japanese cabinet member studying alone at USC, far from home.  She then took a position as an assistant at NBC, working up to a TV producer for Japanese related programming and made fans of the Japanese media executives visiting NBC.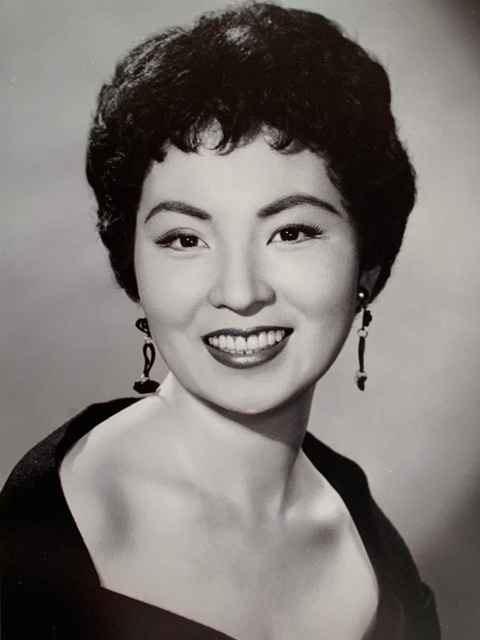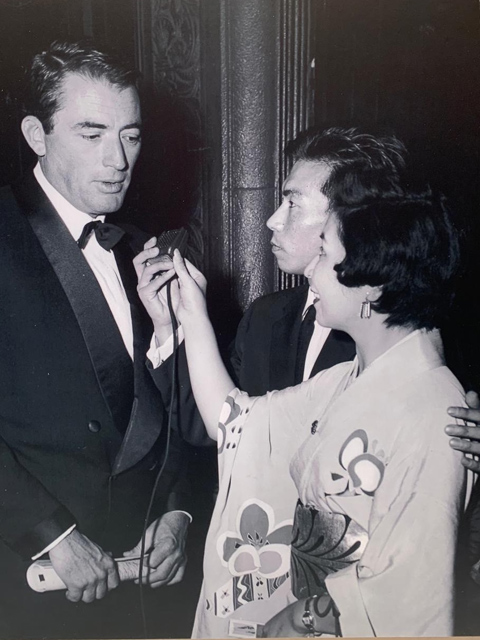 Taeko, Keiichiro Sato (her husband) and Gregory Peck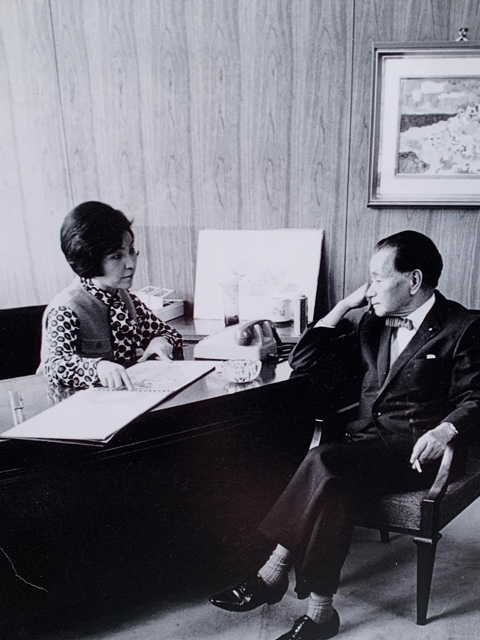 Takeo and her father, Takechiyo
When they returned to Japan, they started Cosmo Public Relation with only one telephone and a single pencil.  All the Japanese executives whom my mother met at NBC became her first clients. Kumi now runs Cosmo, which has become one of the top communications consulting firms in Japan.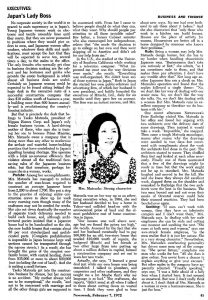 Taeko and her husband were able to buy a nice house in the Harajuku area with some support from their family.  Most young people were not as lucky as them, so she founded Nippon Home, a home builder of affordable, western-style quality homes which were exploding in popularity through the 50s, 60s and 70s. By 1972, she was building 600 homes a year and Newsweek called her "Japan's only female business tycoon."
After this remarkable success, she founded the Japan Housing Foundation, which not only educates builders for better quality, but also connects government, the private section, and individuals in a collaborative way.  She has won many awards, been featured in many articles and a weekly television program, and written her own books, including an auto-biography. She was also the first Chairwoman of the Tokyo Metropolitan Public Safety Commission, the board that oversees the Tokyo Metropolitan Police. She obtained a doctorate in engineering from Tokyo University and has been engaged in an education project to keep traditional Japanese wood construction methods alive.
Per her daughter Lina:
It is often mentioned that she is unusually unique since women in her days rarely left the home.  This may be true in general but not in our family.  Taeko's maternal great, great uncle, Omori Hyozo studied Economics at Stanford and then transferred to Springfield College where he pursued curriculum for strengthening the physique of the Japanese people. He went on to work for the YMCA in 1901 and eventually returned to Japan, bringing back basketball and volleyball.  He co-founded the Foundation of Japan Amateur Sports Association. Also, he was the first director of the Japan National Olympic Team when they first entered the Olympics in 1912, which were in Stockholm that year.  He was married to New Englander, Annie B. Shepley, 20 years his senior. She was an artist and her ancestors came to the US on the Mayflower. Her niece was married to E.B. White. After Hyozo died at the age of 37, she came and lived in Tokyo in the lake house in Kawaguchi.  Until her last days, she devoted herself to social welfare.
Regarding the Global Life Learning Center:
Her passion for the "cultivation of talented individuals for the betterment of society" is the underpinning of her wide-ranging efforts and dedication to creating the programs offered by the Global Life Learning Center.  Since its start in 1983, the center has continued to offer encouragement and support to all who wish to learn.
https://www.gllc.or.jp/en/history/index.html
Dr. Matsuda reported:
I strongly believe that as long as people continue to learn and keep the capacity to be sensitive and engaged by life, age will never be a determinant in how fulfilling life can be.
The once established life-path of graduation from university followed by work at a single company until retirement is no longer applicable for many people today. Shouldn't we regularly continue to cultivate ourselves in multiple ways, to find a new role to stay involved within society regardless of whether we are working?
To do this, we must take an active approach to enrich our learning with new ideas and in various disciplines. It is with the idea of supporting such learning that I founded the Global Life Learning Center (GLLC). Over thirty years ago, I coined the phrase "Life Learning," and it has since been adopted into common usage in Japan, demonstrating that the concept of "Life Learning" has become widely recognized while also developing in breadth and depth of meaning.
It is my hope that in times of great change, "Life Learning" will lead to the development of programs and activities that are useful to society while at the same time offer people a way to establish themselves as thoughtful and responsible individuals. I strongly believe this will help cultivate the talented individuals that will support the Japan in the future.
Our foundation is based on this philosophy of developing social programs and cultivating individual talent, and we will continue to lead the way in supporting "Life Learning," which serves as the cornerstone for overseeing diverse projects to support companies, organizations and individuals.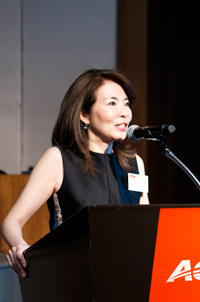 Ms. Kumi Sato
President and CEO
COSMO Public Relations Corporation, a strategic communications and public affairs firm
In 1987, Kumi Sato took over the reins of COSMO Public Relations Corporation. Kumi has developed COSMO into an award-winning strategic communications firm focusing on healthcare.
Kumi has been recognized for her leadership in communications. In 2016, she was named to the Holmes Report's Asia-Pacific Innovator 25 list. In 2012, Kumi received Harvard Business School Club of Japan's "Business Stateswoman of the Year" award. A published author, Kumi wrote two business books: Aisareru Kaisha no Joken [Love Me Company!] (2007) and Communication Leadership (2012). Kumi teaches at BBT University, Dr. Kenichi Ohmae's graduate school of business.
Devoted to developing bonds between Japan and the US, Kumi has been a longstanding member of the American Chamber of Commerce in Japan (ACCJ). In recognition of her 27-plus years of service to the ACCJ, Kumi was appointed as the first Chairman Emeritus in January 2015. Among her contributions to the Chamber, she was Governor (1997 – 2002), Chairman (2011, 2012), and Vice President (2003 – 2006).
Kumi dedicates her time to several non-profit committees and advisory boards. She was commissioned to be an R&D project review member by the Japan Agency for Medical Research and Development (AMED) in June 2018. In 2017, Kumi was appointed as a board director of Poxel SA, a biopharmaceutical company based in France. She also served as an advisor for the Global Health Innovative Technology Fund (GHIT). Kumi has been a member of the Global Council for the New York-based Asia Society since 2007, and previously co-chaired the council.
Kumi Sato graduated from Wellesley College with a BA in East Asian Studies. She is a current member of Wellesley College's invitation-only Business Leadership Council.